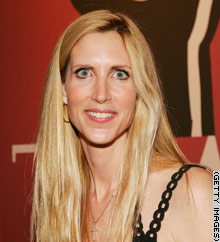 May I please announce that this post is about words, and words only. Do not ascribe my use of ugly words to anything other than that.

Ann Coulter recently got into trouble for saying the word "faggot." (Poor Annie. Couldn't resist the deer-in-the-headlights pic, though.) When I first heard about this on television, they reported that she said "the F word." Of course, I thought "fuck." This is why referring to words by their first letter is bad reporting. Oh yeah, and really stupid too. I've said many times before that if we're going to talk about what somebody said, we have to use the words they said. (Hence this post.)

However, an article on CNN.com uses the word "faggot," spelling it correctly. If she had said "nigger" or "fuck," I'm sure they would have said "the N word" or "f___."

So we now find out that some words are so pernicious that we can't say them even when we're discussing them. But "faggot," evidently, is not one of these words. Finally, at long last, here is my point:

CNN thinks that Blacks are worthy of protecting from their harmful epithet, but they do not offer the same protection to Gays. Which, to me, is a form of discrimination.