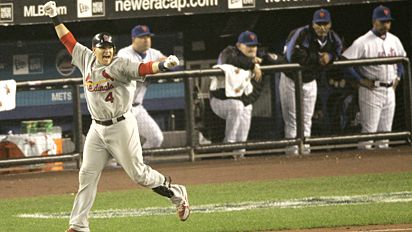 "It's an improbable championship when you win 83 games," Cardinals manager Tony La Russa admitted, after the epic 3-1 Game 7 triumph over the Mets on Thursday that sent his team jetting off to its second World Series in three years. "But all I could think about, coming to the park, was that old saying: 'When you get to 90 wins, that's when you know you're a good team.' Well, this was No. 90 tonight [counting the playoffs]. So I guess now we're good."

More from Jayson Stark at ESPN. You love it when he waxes poetic after your team wins. "Plucky."
The Cardinals, amazingly, got home runs in this LCS from A) a pitcher who had hit none all year (Jeff Suppan), B) a backup outfielder who had hit no regular-season homers after June (So Taguchi), C) a left-handed hitter (Chris Duncan), pinch-hitting against a left-handed reliever, even though he'd racked up nearly twice as many strikeouts as hits against left-handers this season, and D) the plucky little shortstop who hit as many homers in this series as he'd hit in his final 462 at-bats of the season (David Eckstein).