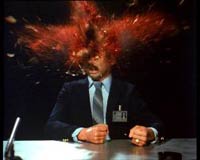 I'm trying to use gmail to get me through the transition as we move westward. Today, I sent a letter and it bounced with this message:
PERM_FAILURE: SMTP Error (state 12): 554 Content filter will not allow this message
I removed the word "fucking" from the letter, and it sent just fine. So there is a content filter in place for either (a) lazy parents or (b) people who don't like spam. "SafeSearch" is sometimes on when I use Google and I just click that off, so I go looking for the off switch. Can't find it. Search the online help, can't find anything. Find the help forums with posts from users, can't find anything.
Remember the first night I played WoW with the profanity filter on? I HATE THIS IT MAKES MY HEAD EXPLODE!
Edit: Changed title to blame some company's content filter instead of gmail. See comments for the whole exciting story! Soon to be a major motion picture! Coming to a theater near you!